We flew into Rochester, Minnesota on a Friday morning and it was pouring rain and fifty degrees… but by the time we arrived at Camp Creek Farm just outside of Preston, Minnesota on Saturday afternoon for the wedding day, it was a very warm and sunny eighty degrees.  The rolling hills and pastoral landscape of the farm took my breath away — the trees were just coming into green, and the vistas were dramatic and beautiful everywhere I looked.  We started with details and getting ready in the attic of the farmhouse, and then had our first look just behind the house in the shade of some large beautiful trees.  We took a few photos on the road to the farm utilizing the bright yellow dandelions, gorgeous old trees and rolling hills as backdrops.  Sarah and Daniel were so relaxed and at ease, and as we moved to the ceremony on the hillside next to the barn, the day felt like the middle of summer, but with a light breeze it made everything feel so pleasant and absolutely perfect.  Sarah and Daniel's friends and family stood by their side and presented such beautiful, thoughtful and meaningful messages of celebration and union throughout the ceremony and into the evening.   Just after sunset, the fireworks started going off at the nearby Preston, Minnesota's annual Trout Fest.  It was something that was both familiar, and totally unexpected/unplanned.  It was a truly magical end note to the evenings festivities, and kick-off to an amazing dance party.  All my best to you both!  Congratulations Sarah and Daniel!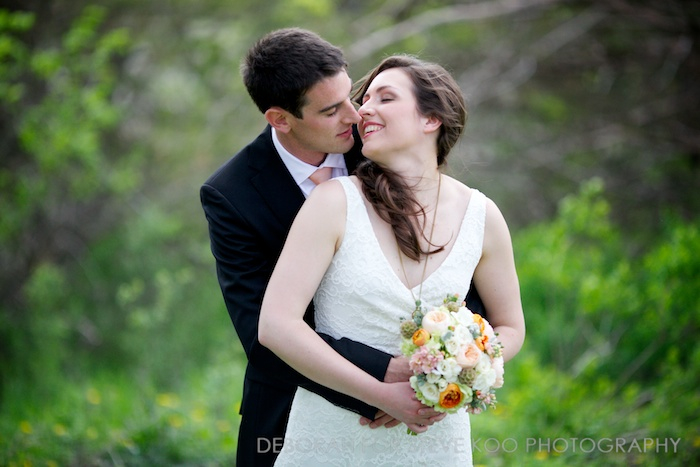 Shout outs to the wedding vendors who helped make this day possible:
Planner: Fab Event Design
Makeup: City Looks Spa/Salon
Hair: City Looks Spa/Salon
DJ: KROC Music on Wheels
Flowers: Le Jardin Floral
Pie: Catering By Design
Catering: Catering By Design
Venue: Camp Creek Farm, Preston, Minnesota
Bride's Dress: J Crew
Posted by Deborah Marcero
Want to work together? Contact me!
Want more photos? Go see more!
Follow me here: Facebook | Twitter | Google Plus
Wedding Inspiration and more on our Pinterest boards!